Dog Bathing Equipment
There is a lot of dog bathing equipment out there to help ease the pain of giving your pooch a bath. Here are a few that have gotten good reviews and can come in very handy. If you have one you would like to add, please let me know

Shampoo Caddie
This handy caddie is a must for any dog tub. It fits on the tubs edges and holds 4 32oz bottles. This way your shampoo, conditioner, etc…is close by for convenience.
Price: $45
---

Booster Bath Tropic Shower
This handy shower is great for outdoor use. It is made to work with your garden hose and your washing machine valves. Because of this, your dog never has to take a cold shower outside again. The warm water from your home will be a big relief.
Price: $45
---

Booster Bath Ramp
This ramp is multi-functional. It eases the entry and exit of your dog into the booster bath. However, it can also be used as a ramp for your pet to get into vehicles, to sit with you on the couch, or anywhere else that is a bit too high for your pet to reach on their own.
Price: $65
---
Rinse Ace Shampoo Mitt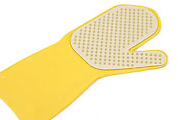 This mitt helps evenly distribute shampoo over your dog's coat. It creates more lather and gently massages to help loosen matted hair. This product is extremely useful when it comes to flea and tick treatments because it protects your hand.
Price: $5
---